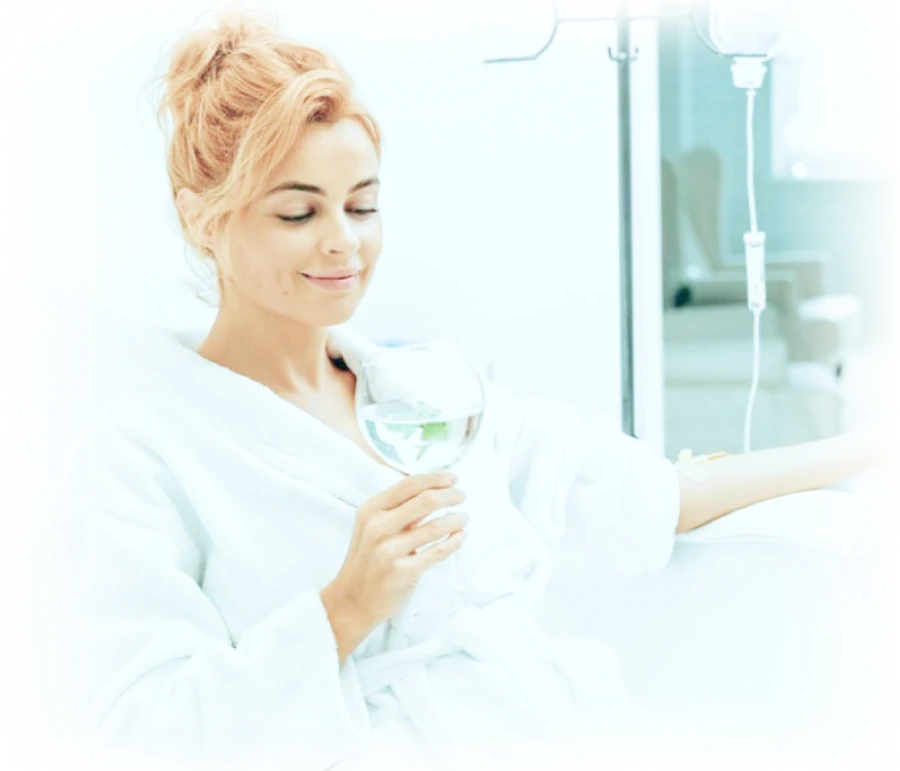 IV Therapy
in Los Angeles
Dehydration can leave you feeling weak and tired, but IV therapy can help you recover quickly and get back on your feet. Our clients in Los Angeles choose IV therapy for a health boost after prolonged sickness, surgery, or a night out with friends. IV therapy can also support weight loss efforts and aid in post-workout recovery.
At Rejuve, our IV therapy sessions are tailored to your individual needs. We offer personalized IV protocols to promote hydration and provide essential nutrients to your body. Contact our doctors today to schedule a free consultation and learn more about how IV therapy can help you achieve your wellness goals.
Choose From Our
Wide Selection of IV Drips
Delivering World-Class IV Therapy in Sherman Oaks & Beyond
Many of our clients throughout Los Angeles choose IV therapy drips for a health boost after prolonged sickness, surgery, or a hangover. IV therapy can promote more effective weight loss efforts and even help you to recover from intense workouts as numerous athletes have discovered. No matter what your health and wellness objectives are, there is an IV cocktail that can help you meet those goals.
Personalized IV protocols
Our IV therapy sessions are tailored to your individual needs, offering personalized IV protocols that are sure to bring about desired effects throughout your body.
For a fast recovery
IV Therapy is exactly what you need to get back on your feet fast and ready to go after a late night out with friends, a nasty case of food poisoning, or dehydration.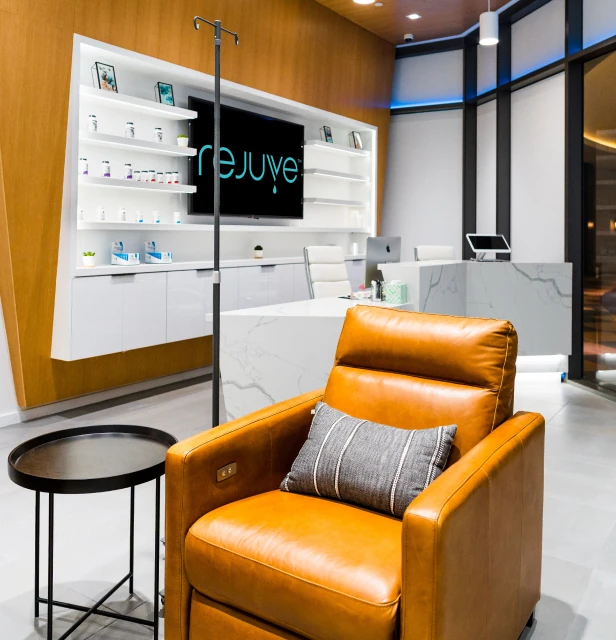 Why Choose Rejuve for IV Therapy?
The Right Team of Doctors
Our industry-leading staff at Rejuve are licensed and certified doctors with years of combined experience in providing clients with a variety of treatments.
Long-Lasting Effects
You can expect to feel a difference from your IV therapy for at least 3-4 days after your session. Regular IV therapy sessions will contribute to enhanced health in the long term.
Wide Section Range of IV Drips
Whether you are looking to recover from a hangover, boost your performance, or improve your overall wellness, we have just what the doctor ordered!
What is IV Therapy?
IV therapy is a restorative treatment
IV therapy is a restorative treatment that administers essential vitamins, amino acids, and minerals directly into your bloodstream. IV drip therapy takes these nutrients and drips them into the body for optimal absorption, so that your body can use them quickly and effectively without any being lost through the digestive process.

The fluid containing the vitamins and minerals is delivered to your bloodstream via an IV drip injection into the vein, enhancing the effectiveness of the therapy and allowing it to travel faster through your bloodstream. IV therapy can help a variety of needs such as replacing electrolytes, providing antioxidants, and reducing stress leading to an overall feeling of improved health.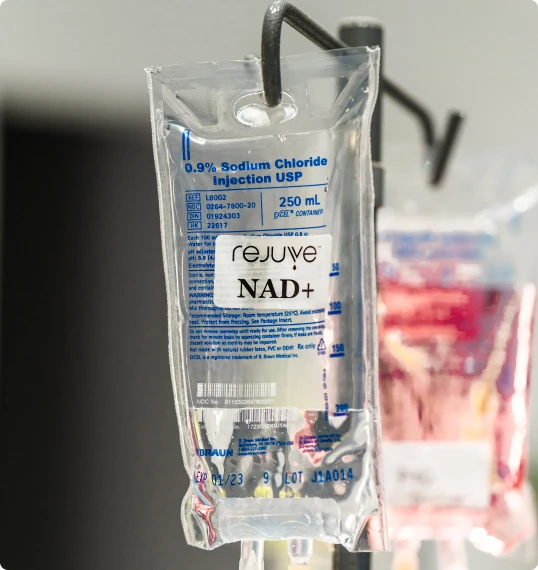 Does IV Therapy Work?
Research shows that IV drip therapy is more effective than the oral consumption of vitamins
Vitamins consumed orally need to be broken down in the stomach and digestive tract before they can be absorbed into your body, which may reduce vitamin absorption by over 50%. Because IV therapy is injected directly into your veins, your body can absorb up to 90% more vitamins. This significantly higher percentage of vitamins and minerals absorbed by your body leads to increased cell uptake, which increases the speed necessary for these nutrients to maintain and boost your immune system. You can expect to feel a difference from your IV therapy for at least 3-4 days after your session; however, regular IV therapy sessions are what helps contribute to enhanced health in the long term.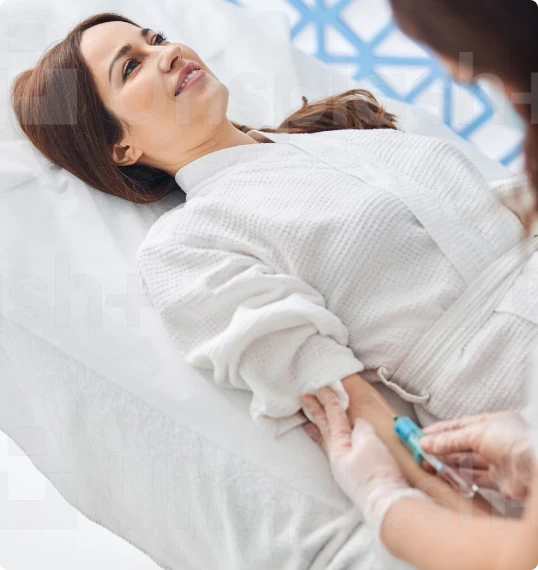 How Can IV Therapy Help You?
It can dramatically help boost your immune system and provide you with the energy and vitamins that you need
Even if we're perfectly healthy we never absorb 100 percent of the nutrients we eat. Add to that digestive disorders and a constant supply of highly processed food that is devoid of the nutrients our bodies need and it cuts our nutrient intake down even further. Vitamin supplements can help, but our body typically absorbs only about 50 percent of the vitamin content. With IV therapy vitamins and nutrients skip the digestive system and go directly into the bloodstream for an absorption rate closer to 90 percent.

The use of this drip has not been proven to prevent disease or illness. Are you ready to soak in all of the benefits that IV therapy has to offer? Contact our IV therapy clinic in Sherman Oaks today! You can choose to schedule an in-clinic appointment, or better yet, schedule a house-call and one of our certified nurses will come to your location of choice within the Los Angeles area.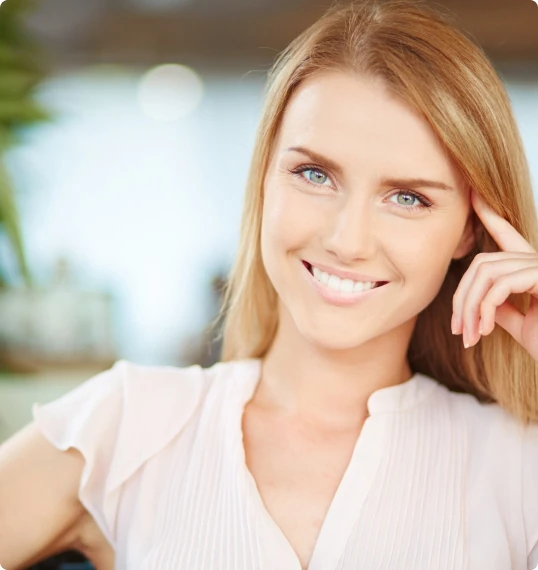 What Are The Benefits of IV Therapy?
What's great about IV therapy is that it offers safe, controlled delivery of vitamins and minerals directly into the bloodstream. This ensures more efficient absorption of nutrients and allows for faster relief of symptoms than the oral consumption of food or medication alone. IV therapy often provides an improved sense of well-being and energy levels due to the fast replenishment of electrolytes and vitamins. IV treatments are typically quick and easy, with most people noticing a positive impact in minutes. It is important to note that IV therapy also comes with minimal risks compared to other types of treatments. All in all, IV therapy offers numerous potential benefits for those of you that are seeking low-risk relief.
Fight Hangovers
May help you to quickly and effectively fight hangover symptoms
Anti-Aging
May help lessen the appearance of fine lines and wrinkles
Weight Loss
May help aid weight loss
Immune System
May boost your immune system by providing it with essential vitamins and minerals that help fortify the immune response
Energy
May provide you with energy, increase concentration, and may even help you beat your jet lag
Pain Relief
May help with instant pain relief
Detox
May help cleanse and detoxify your body
Recovery
May help you recover from sports fatigue, and may help with muscle recovery
Sleep
May help improve your sleep and elevate your mood
Frequently Asked Questions
Here are the answers to some of the most common questions we hear from our appreciated customers.
Is IV Therapy Safe?
Yes, we only use reputable and accredited compounding pharmacies for our ingredients. These infusions are administered by licensed skilled IV specialists.
Are there side effects?
Side effects rarely happen if at all. If they do they are usually minor and short lived. Bruising or bleeding at IV site, warming or cooling sensation in arm, chest or stomach, tasting the vitamins or having vitamin smell in your urine. Our licensed staff are trained to manage all side effects that may occur.
Does IV Treatment hurt?
We use only skilled professionals for IV placement to ensure the least amount of pain is felt if any at all. A numbing topical cream can be purchased for use to dull the sensation at request. Once the IV is in place only a very small straw will be left in the vein ensuring a comfortable session.
Look better, feel better, and unlock the full potential of your body and mind at Rejuve
At Rejuve, you are part of an elite group of people who take their health and happiness seriously, and we make sure to treat you that way.